#KimKardashianProblems
1. When Kim cried after losing her $75,000 earring in the ocean.
Of course, we were #blessed with the iconic "Kim, there's people dying" quote from Kourtney Kardashian, so really, I have no room to complain.
2.  When Kim was pregnant with her daughter North and bought multiple strollers to match her daughter's skin tone.
You thought that one collapsible stroller from Toys 'R Us was splurging. I can only hope that Kim matched the exact hue of North's skin tone by the 17th stroller.
3. When North painted on a Birkin bag Kim received as a present from her husband, Kanye West.
The most coveted bag in all of fashion, a Birkin bag by Hermes, which runs anywhere from $12,000-$200,000 and she had a TODDLER PAINT ON IT. (Sorry, I'm still affected by this. *Takes deep breaths for composure.*)
4. When Kim complains about having to get a manicure for a photo shoot.
Poor Kim, having to get up and have her makeup and nails done for her so she can make thousands of dollars merely for her image. My heart breaks for her.
5. When Kim had an "anxiety attack" after her suite in Bora Bora was too hot.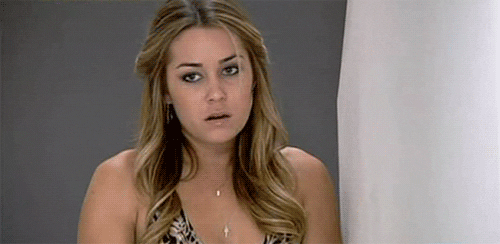 This woman is lucky enough to go on vacation and she complains about how hot the room is? I will let Lauren Conrad's epic eye roll speak for itself.
6. When Kim had to move into her mother's house while her $20 million mansion was being renovated. 
It's got to be tough moving back in with your parents, especially when your mom is Kris Jenner and her house is worth an estimated $4 million. After all, how are you going to combine your shoe closet with your clothes closet?
7. When Kim was paid $18 million dollars to have her wedding to Kris Humphries televised.
Perhaps the worst moment of all is when Kim was given $18 million to have her lavish wedding aired on the E! network. Even though the wedding only lasted 72 days, we still have fond memories of Kris Humphries barking at Kim like a dog.
So in conclusion, I ask you to please pray for Kim Kardashian. May she find solace in her incredibly challenging life.